Flower girls are one of the most special parts of a wedding day. They bring beauty, innocence, and joy to the proceedings. 
When it comes to flower girls, there are a few things you should avoid if you want everything to go smoothly on your big day.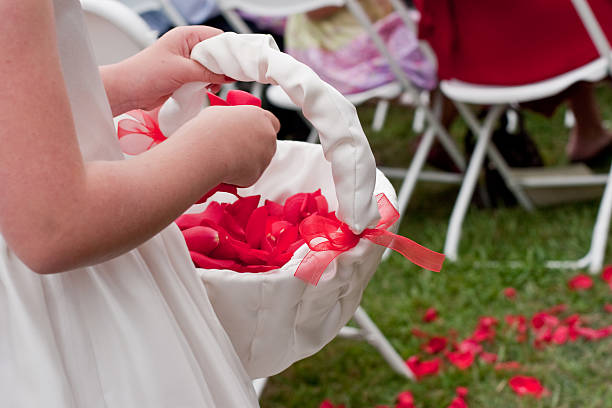 Here are the nine biggest mistakes you can make when it comes to your flower girls, and how to avoid them.
1. Choosing The Wrong Age Group
One common mistake is choosing flower girls who are too young or too old for the role. Flower girls should be aged between four and seven years old. This age group is old enough to understand what they need to do on the day but young enough that they're not likely to get too excited or wander off during the ceremony.
2. Unsuitable Clothing
Another mistake is choosing flower girl dresses that are unsuitable for the occasion. The dress should be white or ivory, and it should be made from a piece of light fabric such as tulle or organdy.
It shouldn't be too long – the hem should come to just above the knee – and it shouldn't be too fussy or decorated. Keep it simple so that the focus is on the flowers, not the dress.
3. Inappropriate Shoes
Another common mistake is choosing shoes that are inappropriate for the occasion. Flower girls should wear flat shoes, preferably with a strap or ribbon to keep them securely on their feet. Avoid heels, sandals, or any other type of shoe that could cause the flower girl to trip and fall.
4. Hair And Make-Up Not Matching The Dress Code
If you're having a formal wedding, the flower girl's hair and make-up must match the formality of the occasion. Avoid brightly coloured lipsticks or eye shadows, and opt for a natural look instead. If possible, have the flower girl's hair styled in an updo so that it stays out of her face during the ceremony.
5. Lack Of Practice
Another mistake is not practising enough with your flower girls before the big day. It's important to go over what they need to do on the day, including walking down the aisle and scattering petals, so that they feel confident and prepared. Practice makes perfect, so the more you can do before the big day, the better.
6. Getting Too Excited On The Big Day
It's normal for flower girls to feel a little bit nervous on their big day. However, it's important that they don't get too excited and start running around or playing before the ceremony. This can be avoided by keeping them occupied in the minutes leading up to the ceremony, such as by having them help with last-minute tasks or by reading them a story.
7. Not Listening To Instructions
During the ceremony, flower girls must listen to the instructions of the person leading them down the aisle. They should walk slowly and evenly, and they should scatter petals as they go. If they don't listen to instructions, it can result in a chaotic and messy ceremony.
8. Wandering Off During The Ceremony
One of the most common mistakes made by flower girls is wandering off during the ceremony. This can be avoided by making sure that someone is assigned to stay with the flower girls at all times and by having them sit near the front of the ceremony so that they're less likely to wander off.
9. Trying To Upstage The Bride Or Groom
The final mistake to avoid is trying to upstage the bride or groom. Flower girls should be aware that this is the couple's big day, and they should avoid doing anything that could take attention away from them. This includes being disruptive during the ceremony or taking attention away from the couple during photos.
Having flower girls at your wedding is a wonderful way to add beauty, innocence, and joy to proceedings. They're also a lot of fun, and they make great photo opportunities! If you're thinking of having flower girls at your wedding, we say go for it – you won't regret it!
By avoiding these mistakes, you can be sure that your flower girls will play their part perfectly on your big day.
If you wanted to read more, click Flowergirl dresses Melbourne.