Although wedding engagements can be extremely exciting and sometimes overwhelming, they needn't be extravagant. Whether you're on a $20,000 or $200,000 budget, there are five key elements that every wedding should include: food, drinks, venue/location/atmosphere, music and fun! More on what is an engagement, just click it.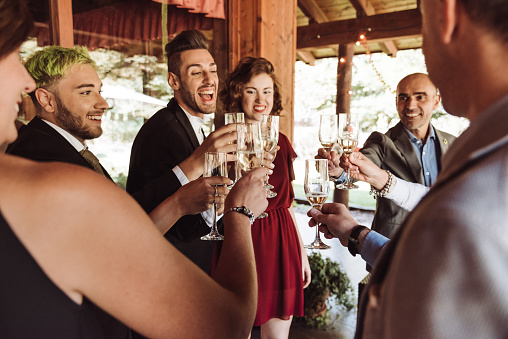 Although this list may seem like the bare minimum for what's needed to have a good time, just think about your last event – whether it was formal or informal – did you feel as though everything was perfect?
There were no glitches; there wasn't anything missing; all of the guests had fun and enjoyed themselves (or at least pretended to)? Chances are you didn't even consider many of these points until you were well into planning your event and thought "oh crap, what do we do now?!"
This list is here to make sure you don't miss out on anything. Just remember: a wedding doesn't have to be all about the ring!
The engagement party's a great time to let loose, laugh it up with family and friends, and enjoy the last few months of being single. So go ahead – take those pictures that will remind you of everything that makes this day one-of-a-kind.
In terms of budget, there are five main spending categories for most weddings: food, drinks, location/venue/atmosphere, music and fun. Wedding planners suggest allotting 35% of your total budget for food and drinks, 25% for the venue, 20 % for music and entertainment, and 20 % on miscellaneous expenses.
Many couples find that planning an engagement party helps them to get a better feel of what they can afford while still having a great time with their guests. It also helps the wedding planner to plan a budget-friendly bash that is full of fun!
You don't have to break the bank or go into debt to have a wonderful celebration with friends and family. Do you remember your last dinner out? How much did you spend on your meal?
How long were you there? If it was during happy hour would you have left sooner if the prices were higher or lower? These are all factors when deciding upon where you want to spend your money.
Whether you are using cash, credit or a wedding planner, you must talk with all of the vendors involved before signing anything. Do not be afraid to inquire about different options and packages. You can also ask if there are any discounts available for off-peak times or days of the week. There are always savings opportunities out there!
These four main categories will help you define your budget even further: 
Food & Drinks: 
Most experts recommend allotting 35 % of your wedding budget towards food and drinks. Consider what type of food or beverages best represent you as a couple – do you want finger foods, buffet style, sit down dinners?
What kind of punch do you want? How many appetizers and desserts will you need? What is your guest list like? This will help to define how much food and drinks you should order.
Location/Atmosphere: 
Depending upon where you choose to hold your engagement party, the prices can vary greatly. For example, a rooftop bar with nice views may be more expensive than a local pub or restaurant in town (higher price tags = higher demand for better atmospheres).
Remember, location is key when planning your perfect wedding. The right location can set the stage for all other details of your event! Also, remember that an off-peak day in a less popular area can save you money!
Music & Entertainment: 
While many reception halls come equipped with their sound system and lighting, they may not be the best quality. If you want to have a top-notch party, consider choosing an entertainment company that can provide you with both sound and light options – as well as experienced DJs who know how to keep your guests dancing!
Just remember: if you are having a band or deejay, they will most likely require more square footage than those providing one of those options…
Miscellaneous: 
This is where the small details come into play. Decorations such as confetti cannons and decorations can add fun and uniqueness to your engagement party. However, if you choose to go this route make sure it is within your budget (perhaps save them for later during the wedding).
Also, don't forget about favours – whether they are for your guests to take home or just something nice to eat. There are many different options out there that won't cost you an arm and a leg!